On a not so sunny June afternoon Fascinating Rhythm and Junior FR joined the Yate Rocks Festival Great Choir Showcase.
This annual music festival is organised by Yate Town Council and this year we were asked to perform alongside other local choirs.
Junior FR as always sang beautifully and entertained the crowd with a rousing version of Mr Blue Sky which cheered up the slightly 'rained on' audience as they enjoyed their picnics.
FR opened the adults choir section after causing some confusion for the sound guy – he was expecting us to have a backing track! We jumped onto the back of a lorry (a new experience for a lot of us) and sang some of our favourites including the fabulous arrangement of 'This is Me'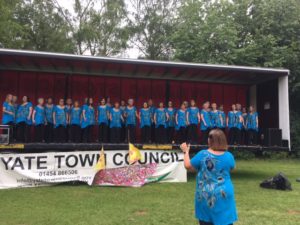 We could then sit back and enjoy the other choirs who were performing including Choir Jam from Keynsham, Bromley Heath Community Choir and the huge Rock Choir – a fantastic afternoon's entertainment.
All too soon came the finale, all the choirs joined together to sing 'Hallelujah' by Leonard Cohen, a fabulous end to a great afternoon.
We enjoyed ourselves hugely and would love to do it again in the future.