FR's Annual Harmony Workshop, January 2017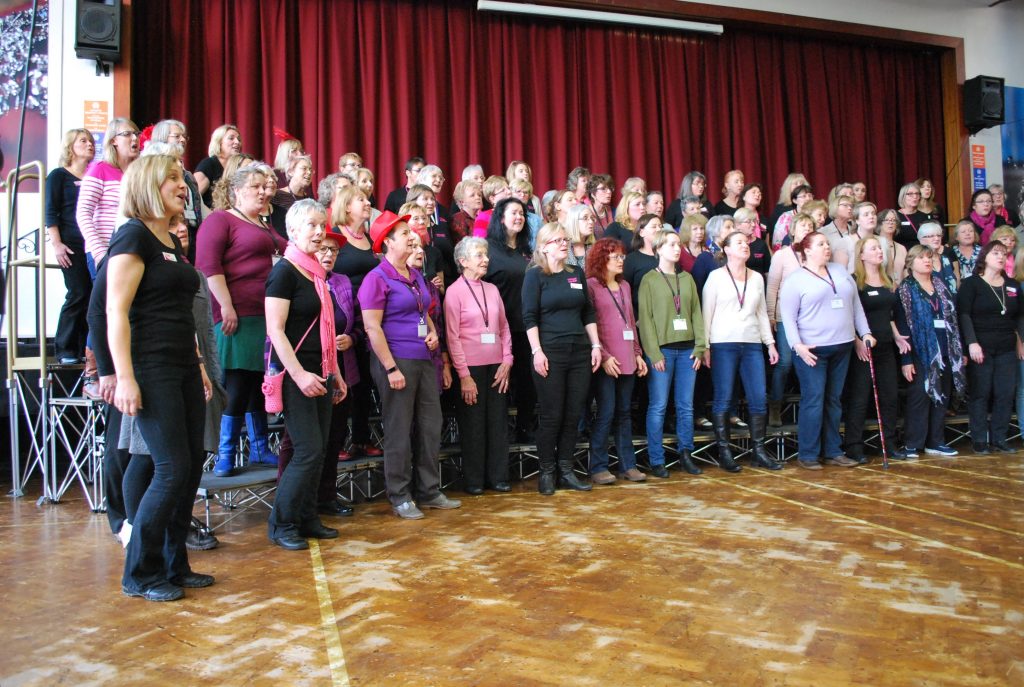 I like the way it was introduced in small section so we could grasp it ok. I've never been to a singing workshop before – Loved It!
Always a good day out – look forward to more, and seeing more performances.  Thank you for all your hard work to make the day a success.
The 'feel good' factor and a sense of achievement.
A wonderful, musical, full of fun and laughter day.
I loved it – came last year and really think I'm going to join this amazing group. Felt energised and tired, but very worthwhile.
Great day, relaxing, exciting.
Great pointer – shoulder blades in back pockets.  Loved the analogy of breath on a mirror.
Reminded me how much fun singing can be, and a sense of achievement.
Fun, and a little more confidence in my voice.
Enjoyment of singing in a big chorus, with very friendly women.  Excellent tips from the Director on getting right notes, etc.
Excellent friendship!  Good craft points.
Great to sing with a 1st class group.
I expected to sing Lead but found myself in Baritone which pushed me further than I'm used to.
I must just say how wonderful all the ladies were and helpful with lots of kindness.  Super day.
I loved the word worksheets – worked like a charm.
Another fantastic day – thanks to everyone involved.
We loved and and will be coming next year.
A great day, the breaks and refreshments just right – and thank you for our Gift Bag!
Really good fun, thank you for all your hard work.
Everyone friendly and warm.  Felt very welcome.
Great day – thank you!  Very well organised.
Everyone made to feel welcome, they were helpful, friendly and put me at ease quickly.  Thank you.
Very well organised, a pleasant day.
You were all very welcoming and the instruction was excellent.
About HomeStart Stroud's Charity Concert, May 2016
Thank you Fascinating Rhythm for making us your charity of choice for 2015 and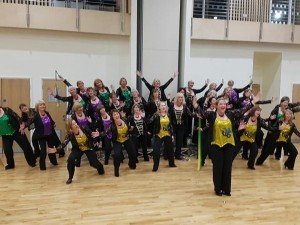 then giving a concert at Beaudesert School, Minchinhampton on Saturday, 7th May 2016 to raise fund for Home-Start Stroud District. The new Hall at the school provided a perfect setting for the event. By the time the chorus took their place there were over 100 people in the audience and first impressions were of a smiling, alert, smartly dressed group who proceeded to give us a mixture of songs that showcased their talents. Each item was introduced with a light but informative few words which explained about the techniques that is required to sing without any backing music. Four parts is the basic method but we enjoyed one piece that had ten part harmony, hugely impressive to those of us who find singing alto a challenge! The impact of the song 'Fix You' was poignant as the words sum up much of the emotions behind many of the situations faced by our Home-Start families. For the writer it had the added impact that it was written by Chris Martin of Coldplay who, as a schoolboy, was one of my husband's pupils! Thank you to everyone who gave up a Saturday evening, you raised £1,270.
About FR's Annual Harmony Workshop, January 2016
"Learned something about the different tone of voice we are capable of with different mental imagery/attitude."
"Uplifting singing opportunities in a group of lovely voices." 
"A fun day doing something I wouldn't normally get to do."
"Confidence in singing.  Enjoyment."
"To be able to learn a song so quick.  Meet other people."
"It helped me focus my sound and helped breathing."
"I found it helped me produce a better sound than I have for years."
"A chance to sing in harmony with other people – confidence booster!"
"Really enjoyed singing in a group."
"Great fun, experience a different sort of singing from usual, chance to challenge myself."
"Fun, encouraging day."
"Great sense of achievement and enjoyment.  Wonderful to be able to learn and perform a song in a day."
"I felt uplifted and happy.  I so enjoyed meeting other ladies and singing."
"Great fun.  Quality me time!"
"Most enjoyable, informative and inspirational."
"Loved singing in large chorus, enjoyed doing craft work and loved the song."
"A bit of everything.  Vocal colour, harmony and learning a whole song in a day!"
"A big sense of wellbeing, lots of fun.  Can't wait till next year."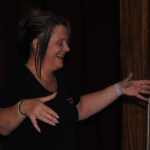 "The sheer joy of using my voice."
"Loved to learn I'm a Bass and not out of tune!  Such a welcoming and well organised event – brilliant."
"Made me realise how much I enjoy singing."
"Good – cakes delicious."
"Very good venue and catering.  Cake is necessary on these workshops and you did us proud!"
"Very good.  Nice cakes!  Thanks!!
"The section leaders were excellent.  Inspiring."
"Well done.  It was well organised.  Vocal sessions were spot on. Everyone was friendly and welcoming.  I'd come again."
"Could you do it more often?"
"Thoroughly enjoyed it.  All FR make a great effort to support and make sure everybody is ok.  We came last year and it was lovely to be remembered."
"Just a word of thanks.  Everyone was so friendly, welcoming and most importantly – understanding."
"Hats off to our team leaders – I was in the Bass group and I know I wouldn't have even got close to a decent end performance without the excellent guidance and encouragement of our particular leader, who was brilliant."
"Thank you very much for sending our truly fascinating day song recording. It sounds wonderful, we even got some of Jo's goosebumps she sometimes got when we were particularly good."
"We had again the most fantastic day loved every minute of it.  Everything was equally as good as last year and can't wait for next year."
"You all work so hard to make sure all the delegates have a good day, you are all so friendly and helpful, my only comment was it could have been a little warmer in the big hall, but everything else was spot on."
"Just wanted to say a HUGE thank you for a wonderful day last Saturday when some friends and I came for the singing workshop.  Really well organised and such fun…and amazed a decent noise came from some of the more inexperienced ones amongst us!  Special thanks to Jo for her enthusiasm and tips…I have demonstrated singing 'wide' to a number of people now – still makes me laugh!"
About Junior FR's Workshop for Young Singers
Saturday, 12th November 2015
"Many thanks to all the FR helpers for the wonderful experience you gave my daughter.  The fun and impressive productions at Showtime! were a delight to watch, and quite obviously and evidently to take part in. "
Mary E
"Just wanted to say thank you for a great event on Saturday … I was very impressed with the children's performance and I know my daughter thoroughly enjoyed the experience."
Leah G
"Thank you for having my daughter for the workshop on Saturday.  She had an amazing time.  Please thank the team for what was an amazing performance at the end of the day."
Mary D
"Thank you so much for the amazing day on Saturday, my daughter loved it!  Yes please she would like to come for a trial on Friday 22nd January at Iron Acton Village Hall."
Anna C
About January 2015's Harmony Singing Workshop
Do it again! Bouncing off the energy of FR and singing at the end.  Double woo hoo!

Everything – how to sing, how to listen, met you all and how lovely you all are.  Fantastic and (in a Craig Revell-Horwood voice!) Fab-u-lous!  Thank you so much, one of the best days I've spent.

Enjoyed the sense of all the delegates improving through the day.

Fun!  Met a lot of really nice people.  Improved my singing confidence and learnt some good advice on breathing, etc.  Very efficiently run, excellent organisation.

Fun.  Help with breath control. Techniques to warm up.  Surprised I was a bass!  Lovely cake and warm welcome.  A challenge as the bass section part was hard with few words. Gained confidence in singing with a large chorus.  I loved it from start to finish.
Lots and lots of enjoyment.  Great organisation.  Wonderful atmosphere.  Thanks to all the ladies for a wonderful day.

Enjoyed learning different singing techniques and breathing exercises.  Thought FR members were very friendly and proficient/welcoming.  Enjoyed practicing in different parts.  Looking forward to singing with you again.

The confidence to learn a complete song quickly and with natural choreography.  Fantastic day – thank you!  Looking forward to next year!

Techniques, fun, friendship – exhilarating!!  And Cake!

Excellent info on voice use and control.  Very friendly supportive coaches.  Not made to feel inadequate, as never sung bass before.  It involved lots of fun which helped relaxation.  Overall inspired.  Thoroughly enjoyed it all!!  Fabulous.
Singing in large 4 part harmony group!  Breathing etc associated with singing!!  Respect to Fascinating Rhythm!!  Thank you.
Above are just a few comments from the workshop evaluation forms completed by our 90+ delegates.
Footnote:  … FR had a great time too and are really looking forward to our next workshop on Saturday, 23rd January 2016 at Castle School.