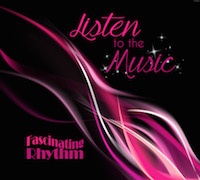 We've recently launched a new CD with all our favourite and much-loved close harmony songs. The CD's title track, Listen to the Music, was one we fell in love with the first time we heard it. Arranged for a cappella singers by Liz Garnett, we have much fun performing it! The CD is a culmination of our hard work over the last five years developing our craft and improving our singing. We are very proud to also showcase Junior FR on this CD as well as our in-house octet RhythmMix.
Buy a copy through our website: £12.50 (including p&p*) by contacting us here
* Overseas:
Europe: £12.45 /€18
America & Canada: $20
Australia: £13.30 $26
Copies will also be available at our performances. Keep an eye on our diary for more information.