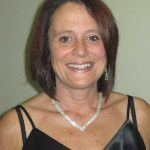 Jo's roots in barbershop stretch back three generations and she has been personally involved as a singer/director for 35 years – she looks too young you say!  Well she was just 12 years old when she started. Her day time job sees her working full time for a Down Syndrome charity covering the whole of the Southwest with dizzying title of Operations and Business Development Manager.  She jokes that her other full time job is being the director of Fascinating Rhythm; we know however that she would not have it any other way.
Previously, Jo has sung with three choruses including FR and has also attained a couple of the much coveted gold medals in her quartet singing with No Strings and Havoc.
As a vocal coach she works here in the UK and overseas, building confidence and vocal technique with individuals and ensembles as she goes.
She is very proud of the journey that Fascinating Rhythm is on and repeatedly tells us how honoured she feels to stand in front of us each week. A very strict MD who really knows how to get the very best out of 60 excitable women!