Fascinating Rhythm is an all female a cappella chorus based in Winterbourne, South Gloucestershire. We love singing together in glorious 4-part close harmony and to entertain audiences at all kinds of venues including concerts, social evenings, charity events, festivals and competitions. Our repertoire includes a wide variety of styles including pop songs, ballads, easy beat and traditional barbershop.  If you'd like to book us, join us or just want to know a bit more about us, please click on the 'Contact Fascinating Rhythm' link below.
Upcoming Events: 
Our 2019 Learn to Sing Workshop – Saturday 2nd February, The Castle School, Thornbury BS35 1HT
10am-4pm £12 per delegate.  There is also a discount if you have attended before or book 4 or more places.
To book: contact Lin Taylor: taylin4@hotmail.com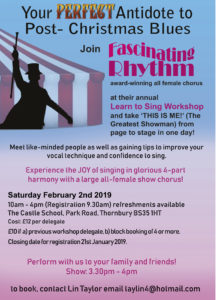 High Note (article from Good Housekeeping, November 2016)
'Sign up to sing in a choir and you'll not only reduce the levels of the stress hormone cortisol, you'll also boost cytokines, proteins released by the immune system that help fight off illness', according to a Royal College of Music study. Singing was also identified as one of the top 10 mood boosters in University of Sussex research – 'better even than shopping!'
Click on the link above if you'd like to give it a go and be part of Fascinating Rhythm.