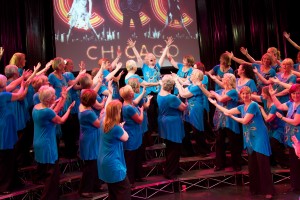 Fascinating Rhythm is an all female a cappella chorus based in Winterbourne, South Gloucestershire. We love singing together in glorious 4-part close harmony and to entertain audiences at all kinds of venues including concerts, social evenings, charity events, festivals and competitions. Our repertoire includes a wide variety of styles including pop songs, ballads, easy beat and traditional barbershop.  If you'd like to book us, join us or just want to know a bit more about us, please click on the 'Contact Fascinating Rhythm' link below.
 Upcoming Events:
Thursday, 1st September – OPEN REHEARSAL
Fascinating Rhythm is throwing open the doors to our Thursday night rehearsal on
Thursday, 1st September.  If you've ever wondered about the mysteries of 4-part harmony singing (how do we get that 5th overtone note?), or are perhaps considering booking us for your event – maybe even contemplating joining a female a cappella chorus – come and join us for an evening of great singing and … cake!
7.30 pm – 10:00  pm at The Greenfield Centre, Park Avenue, Bristol, BS36 1NJ (parking is limited so please park in surrounding streets).
This event is free and is part of the South Gloucestershire Discover Festival, co-ordinated by South Gloucestershire Council.  More details about the festival available on their website or pick up a programme at your local library.  To reserve your place please contact Chloe Roberts at chloerobertsfr@hotmail.co.uk.  We look forward to seeing you there.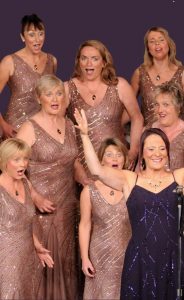 Saturday, 24th September – Winterbourne & District Community Association at the Winterbourne Community Centre, Watleys End Road BS36 1QG.
Concert with Fascinating Rhythm.
8:00pm start (doors open 7:30pm).
Tickets £8.00 (admission by ticket only).  Bar and Raffle.
Tickets / more information from Margaret Nash – Tel: 01454 773370
2017
Saturday, 28th January – FR's Annual Harmony Singing Workshop.
Details to follow soon.