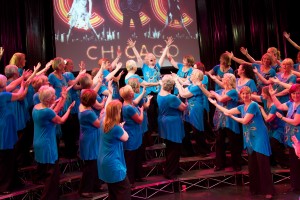 Fascinating Rhythm is an all female a cappella chorus based in Winterbourne, South Gloucestershire. We love singing together in glorious 4-part close harmony and to entertain audiences at all kinds of venues including concerts, social evenings, charity events, festivals and competitions. Our repertoire includes a wide variety of styles including pop songs, ballads, easy beat and traditional barbershop.  If you'd like to book us, join us or just want to know a bit more about us, please click on the 'Contact Fascinating Rhythm' link below.
High Note (article from Good Housekeeping, November 2016)
'Sign up to sing in a choir and you'll not only reduce the levels of the stress hormone cortisol, you'll also boost cytokines, proteins released by the immune system that help fight off illness, according to a Royal College of Music study.  Singing was also identified as one of the top 10 mood boosters in University of Sussex research – better even than shopping!'
Click on the link below if you'd like to give it a go and be part of Fascinating Rhythm.
 Upcoming Events:
28-30th October ….CONVENTION!
2017
Saturday 28th January 2017  FR's Annual One Day Harmony Singing Workshop
Looking for something to start the New Year right? Love to Sing? Come along to our 2017 New Year workshop. By the end of the session you will have improved your vocal technique and learned to sing in glorious 4-part harmony. At the end of the day you will be invited to perform for your friends and family with one of the country's top female a cappella choruses.  Experience the unforgettable – feel what it's like to be part of a Big Show Choir!
VENUE: The Castle School, Park Road, Thornbury,BS3 5 1HT
TIME: 10:00am – 4:00pm: Registration 9:30 am.
COST: £12 per person – tea & coffee available plus cakes to buy to eat & take home.  
EARLY BIRD BOOKING (by 3rd December 2016).
Block bookings of four or more and Friends of FR (previous workshop delegates) Only £10 per person. Limited places – please book early.  Plenty of parking.  Disabled access.
Closing date for bookings Friday, 20th January 2017.  For further information and to book your place please email Linda Taylor:  taylin4@hotmail.co.uk.  Whatever your singing ability be assured of a warm welcome and you'll have an inspiring day with like-minded people.
SHOWTIME! Family & friends welcome 3:30pm till 4:00pm.  Bring out your inner Diva & boost your feel-good factor for 2017!
Wednesday, 14th June –  Fascinating Fashion Show @ The Armstrong Hall, Thornbury. Details to follow in April 2017.