Fascinating Rhythm is an all female a cappella chorus based in Winterbourne, South Gloucestershire. We love singing together in glorious 4-part close harmony and to entertain audiences at all kinds of venues including concerts, social evenings, charity events, festivals and competitions. Our repertoire includes a wide variety of styles including pop songs, ballads, easy beat and traditional barbershop.  If you'd like to book us, join us or just want to know a bit more about us, please click on the 'Contact Fascinating Rhythm' link below.
In March 2019, on World Down Syndrome Awareness Day we were delighted to release "This is Me" in collaboration with Ups and Downs South West. It was the most rewarding experience for us and something we are all extremely proud to have been a part of. We were delighted that it has been viewed across the world and if you have not seen it yet, or want to see it again, you can view it here:  https://youtu.be/A54xxtJgxOg
Our collaboration has been nominated for a film award, sadly the first round of voting has now closed- We look forward to the results in the New Year! If you would like to see us and the other nominees, please follow the link  https://charityfilmawards.com/videos/this-is-me
Upcoming Events & Latest News: 
The workshop approaches! A fabulous gift for yourself or any lady who loves to sing!
 https://www.facebook.com/events/751139352049111/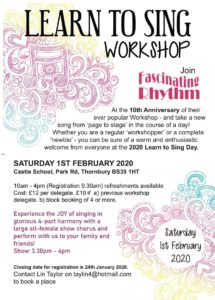 High Note (article from Good Housekeeping, November 2016)
'Sign up to sing in a choir and you'll not only reduce the levels of the stress hormone cortisol, you'll also boost cytokines, proteins released by the immune system that help fight off illness', according to a Royal College of Music study. Singing was also identified as one of the top 10 mood boosters in University of Sussex research – 'better even than shopping!'
Click on the link above if you'd like to give it a go and be part of Fascinating Rhythm.